We are quite picky when it comes to interiors. We want the perfect walls, excellent paint jobs and inviting furnishing. Also, we want nothing but the best when it comes to interiors, especially in our homes! Our home should be such that it speaks for its personality. Homes need to be well kept, furnished and must have an energetic vibe. One cannot accomplish energetic vibes with dull walls, damaged doors and therefore precaution must be taken to maintain the doors and the walls. Skim coating is done to fix wrecked walls. If you have never heard of skim coat, it basically means a thin coat of joint compound that you can use to repair or smooth damaged walls. This skim coat, which is also known as mud is the perfect solution used for leveling an area with an existing flat surface and to fill in cracks or joints.
Preparing The Wall
There is more to walls than just painting them to brighten up the space. If you wish for your walls to look well maintained, then the first step is to ensure that the wall surface is even. Prime the walls to get rid of the paints chipping off the drywall. It is important to skim the walls to fill out all the cracks so that you're left with a smooth surface to paint. To prep the surface, add a fast-drying, stain-sealing drywall primer on the walls. The primer will be of assistance to seal the loose paper. This step will further promote better adhesion of the joint compound and use roll as that will prime the entire wall with a stain-blocking sealer. Primer is slightly on the expensive side but it is an investment in the long run because of the durability it guarantees.
It is suggested that you try the water-based primers considering they are much easier to clean in comparison to the solvent-based sealers. Moreover, choose a primer that does not have a strong smell of the chemical. Once you've primed the wall, let it dry without rushing to the next step and allow the sealer to dry thoroughly without applying the joint compound. To fix holes or torn away paper and to level the uneven sections, use the setting-type joint compound. Patch it up in the torn areas and let the compound harden and it does not necessarily have to be dry before you start to skim coating.
Skim Coat Walls: Roll On The Mud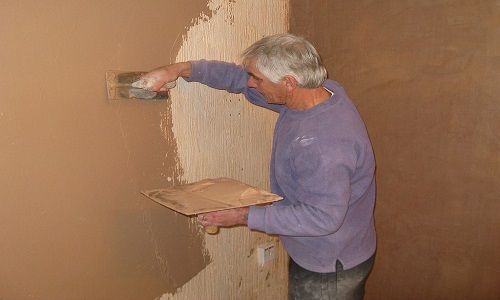 The second step to skim coat walls is to roll on the mud. Rolling on mud is done to give the surface a finer look. Take a slightly thinned all-purpose joint compound and spread it all over the wall with the help of a heavy-nap roller. The joint compound starts to get dry early, so you've to work in small sections to smooth it out. The joint-compound should be mixed with the same consistency as mud that you've used for bedding tape or it should be thin enough to roll on the wall. If the joint-compound gets too wet while mixing, you'll get shrinkage. But, don't worry if the first coat develops cracks on the surface; mix the next coat a little thicker than the previous one by adding some fresh mud.
Choose a nap roller of size around ½ inches to roll mud on an area of 4 square ft. While rolling keep it as even as you can so the squeegee will work better for you.
Read Also: 10 Awesome & Simple Ways To Improve Your Light Fixtures
Wipe It Smooth 
Use a squeegee knife to smooth the joint compound while starting from the top and pulling it down. Similarly, you can smooth the mud using the same technique and tool. While smoothing, it's necessary to keep the knife clean and mud free. So, to clean the knife, you can use a damp rag to wipe the blade after few strokes and a mud pan to wipe off the excess mud that builds up on the blade. Set the knife at the top corner of the wall and pull it down and overlap each vertical pass until you complete the section.
At first, it can be hard to use the squeegee knife but it wouldn't take long to get the hang of it. Once you're done rolling the top section, you can start working on the lower half. Rolling joint compound on the lower surface is as easy as rolling the upper half. You just have to pull the squeegee knife from the bottom up and pay attention to the edges as you go. Let the joint compound coat dry for some time and if it's taking too much time to dry then you can use a space heater and a box fan to blow dry it. To avoid any strokes in the next coat; just knock off lumps or proud mud lines with a 5-6 inches putty knife; you don't have to sand between coats.
Apply One Or Two More Layers
 If you trowel the first coat vertically, then for the second coat, do it horizontally. But, if you still find indentations or imperfections on the coat after it dries, then trowel on a third coat. Getting the perfect finish in the first attempt is not always easy. Applying two or three coats of joint compound may sound like a lot of work, but this process takes very less time and the thin layers dry fast. Not to mention, the smoother you get the wall, the less sanding you'll get stuck with. Also, to give the wall a perfect finish, trowel every layer at a right angle to the previous one. Once all the coats are dried, pole-sand the wall with 120-grit paper. You can also hit the wall with 100-grit first if you find too many peaks and valleys on it.
Next time when you're smoothing out tape joint, give the squeegee-like tapping knife a shot for more smoothing. It will taper the knife edges and will not get any trowel or taping knife marks.
Necessary Tools Required For This Project
A number of tools are required to skim coat office walls. Below we have mentioned some of the most important tools which are necessary for this project.
4 inches screwdriver
Mud pan
Paint roller
Paintbrush
Roller sleeve, ½ inches nap
Safety glasses
Sanding pole
Taping knife
Material Required For This Project
It can be very difficult to get the material on time. So, avoid last-minute shopping trips and get all your materials ready ahead of time. Here is a list of materials that you need for this project.
Drywall compound, regular
Drywall compound, setting type
Masking tape
Primer
Sandpaper, 120-grit
For a beginner, it can be tough to skim coat a wall, but it's not impossible. To create a flat surface for painting or wallpapering with the help of skim coat, spread it with a trowel or drywall knife over a rough wall or ceiling. To make the surface smooth for painting or wallpapering, you'll need to apply 2-4 coats. For a skilled drywall taper or plasterer, it's easy to skim coat a wall as it can be done with a hawk and trowel. Well, if you're a beginner or remodeler we recommend to not use these tools firsthand.
The technique we mentioned for skim coating is slower than other traditional techniques, but it will give the walls a flat and smooth surface. So by using this technique, you can save a lot on labour cost.
Recommended Posts
Tips To Choose The Perfect Garden Room

5 Best Ways to Decorate Your Home and Office Using Salt Lamps
---
AUTHOR BIO
Written by Anna Barton. She is a problem solver, a coffee trailblazer, and a passionate creator.