Are you craving some additional space in your house and want to give it a new lease of life? A garden room is exactly what you need. If you've got the ability and resources to extend your house, then you must certainly go for it! An extravagant garden room would not only add a dramatic look and feel to your house, but also provide a serene bolt hole to get away from your everyday life. Not to mention, it has got the potential to increase the worth of your house as well. So, do you dream of building an ultra-modern glass conservatory suffused in sunlight along with a panoramic view? Or do you wish to build an "open-plan-kitchen-diner" glasshouse; a perfect garden room with doors that lead you to an aesthetic patio?
No matter what type of orangery you go for, create a space that you'd love being in the entire year by keeping it cool in summers and, warm and cozy during winters with the best ventilation and heating system depending upon your conservatory's orientation. In this guide, we have compiled an array of attractive garden rooms that'd not only inspire you but also help you create a conservatory you've always dreamt of, with a streamlined layout that flawlessly matches your home and daily living needs.
#1. Build a Classic Hardwood Glass Room
When you're thinking of expanding your home, an additional room looking onto the garden could be a traditional choice, especially for a country house. Painted hardwood is not only in trend when it comes to creating a glass room, but also offers several benefits over other materials like aluminum. Not to mention, hardwood can last longer with some additional maintenance instead of simply repainting it. Here you can find some ways to add classic style to your glasshouse.
#2. Go Modern with a Glass Box Conservatory
Modern garden room designs can work wonders even in period homes. Imagine you sitting in a conservatory during winters, with its glass reflecting internally-generated heat back in the room. Wouldn't that be amazing? Apart from this, with a glass box structure, you can easily join 2 buildings together without having the need of detracting it from the original details.
#3. Create a Kitchen-Glasshouse Extension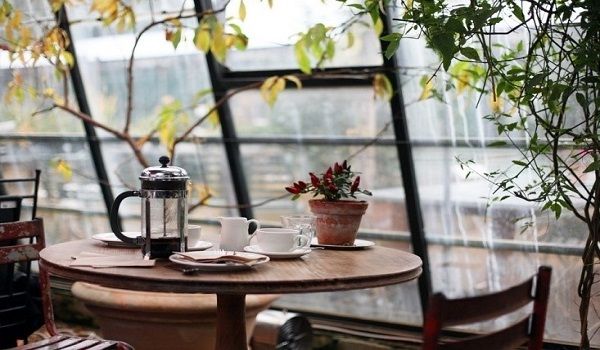 When creating a glasshouse opening from your kitchen, you need to plan its construction with complete care. Also, while building one you ought to ensure that thermal comfort analysis is carried out and the design is tweaked accordingly. This way, your space is neither too hot in summers nor too cold in winters.
#4. Go for a Conventional Orangery
In comparison to a garden room, an orangery is much more substantial. It's generally made up of masonry or brick in order to match your existing house, along with floor-to-ceiling windows and a lantern-style roof to complement the entire look. Not to mention, an orangery is an ideal solution if you're thinking of creating an "open-plan-kitchen-diner", but you ought to prepare a plan to utilize most of the space right from the start.
#5. Nod to Colonial Style along with a Veranda
Verandas have the ability to blur the boundary between your house and garden. They offer a perfect place for you to explore your outdoor area whilst remaining protected from the changing weather. A colonial style glasshouse is very flexible and could cover the door area, pathway, patio or walkway.
Read Also: Home Building: 6 Great Ways To Save Money
#6. Maximize on Space by Going for a Lean-to Conservatory
When it comes to building a conservatory, this style has been in trend specifically for houses that have space issues. A lean-to glasshouse is commonly for period terraces, as they tend to utilize most of the area at the side of your home. So, why not take advantage of this "side return" area at the back of an Edwardian or Victorian terraced home to build a long lean-to garden room?
#7. Go Big with an Aluminum Frame
You can add a contemporary glasshouse to your house as an extension or as a separate garden room, which gives you a bolt hole from your daily life. An open-plan living room-dinner-conservatory bathed in sunlight along with a glass roof and floor-to-ceiling window could always be your one-stop solution when looking for something modern. Also, if weight is a major concern for you, then you can go for an aluminum structure. Not only it is light and strong, but also has a longer lifespan and supports huge glass panels.
#8. Perfect Garden Room: Create an Outdoor Glasshouse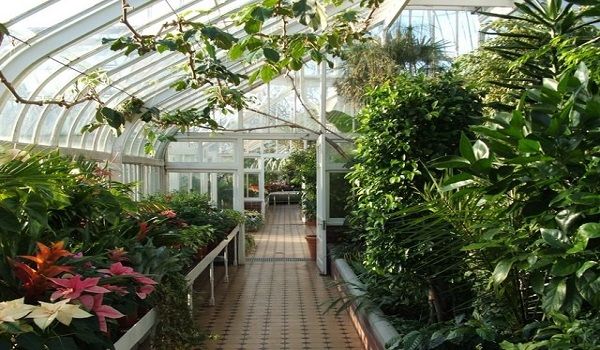 Imagine sipping a cup of coffee and enjoying the panoramic view in an outdoor room trailed with vines over a canopy in your terrace. Wouldn't that be a soothing experience? You could also use the conservatory as a pretty dining room with green crockery matching the greenery of foliage and maybe complete it with an impromptu porthole window, providing shelter from the sun.
Read Also: How to Turn Your Backyard into A Comfy Outdoor Living Space
#9. Blur Outside with Wall-to-Wall Glass Doors Inside
A garden room with a wall of glass doors allowing plenty of sunlight and a bountiful view of the outside is all you need to give yourself a break. If you wish to give your room an informal feel, then you could simply go for rattan furniture. On the other hand, to create a colonial style, adding some potted palm hints could be the best option. Not to mention, you could even add some laying flagstones on the inside and outside of your glasshouse in order to unite the two areas, particularly when the doors are kept open.
#10. Design a Conservatory You can Dine in
If you're a person who always likes to follow the "small and simple" mantra when it comes to designing a conservatory, then a simple, yet spacious dining area would be one of the best options to go with. Such conservatories not only allow ample of light but also an amazing view of the outdoors. If you'd like to add some hint of history to your newly built extension, then reclaimed wooden chairs from churches could be an ideal solution.
#11. Create a Rustic Glasshouse
When it comes to extending your house, you need to make sure that you're creating an intriguing focal point. One way to do so could be by creating a rustic glasshouse. This garden room could be transformed into an ideal sanctuary by simply adding some indoor plants, soothing color scheme, and wooden flooring.
These unique tips are a sure-fire way to make your home more beautiful. Create a safe haven for yourself in the comfort of your home with these tips!
Recommended posts
---
AUTHOR BIO 
Written by Anna Barton. She is a problem solver, a coffee trailblazer, and a passionate creator.