When have you last renovated your kitchen? What? More than a year or two? Well then, it's high time that you need to make a plan to renovate the "heart" of your home. If you are thinking that you'll have to spend a lot to remodel your kitchen, then you are seriously mistaken. Unlike a bedroom or drawing room, you need not purchase heaps of decor items to revamp a kitchen. Just buying a robust and attractive kitchen cabinet will be more than enough. Yes, that's right! Cabinets act like a major decor element of a kitchen. It won't just perk up the look of your kitchen, but will also help you to keep it more organized. So, when you are thinking of renovating this nook of the house, the first and foremost thing that you need to do is purchase new cabinets.
Nowadays, most of the homeowners are purchasing thermo foil or steel cabinets for renovating their kitchen. But, being a kitchen designer, I always ask my clients to opt for maple wood cabinets. And, it's not just me who prefers maple cupboards for Kitchen Renovation; most of the interior designers prefer the same.
Why do Most Interior Designers Choose Maple Cabinets?
Thinking, why do interior designers pick maple cabinets over the other hardwoods? Well then, you must give this blog a good read. Below, I have mentioned about the vital qualities of these cabinets, which are surely going to impress you.
Read Also >>> Five Smart Ways to Make Small Kitchens Look Bigger
Take a Look:
♦ Perfect for Both Traditional & Contemporary Kitchens
In my career as an interior designer, I have come across numerous clients who think that maple cabinets can only complement traditional kitchens. Wondering, why do they have this idea in their mind? Well, thanks to those home improvement magazines that stick to "cliché" kitchen decor ideas. But, let me tell you something, maple wood cabinets are absolutely versatile and will do justice to a contemporary kitchen as well. So, even if you have a modish kitchen, you can choose these cabinets, especially the white or northern maple cabinets.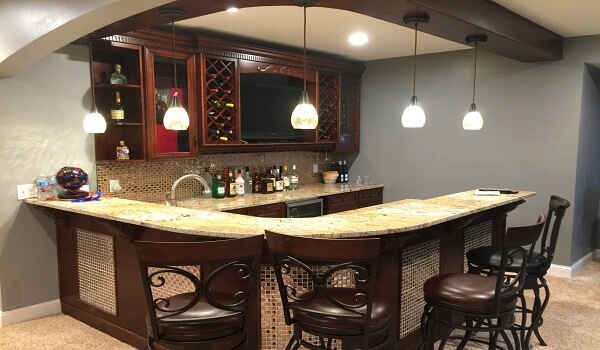 ♦ Absolutely Durable
Another reason why interior designers prefer cabinets made of this wood is because they are sturdier and more durable than most of the other hardwoods. Hence, be rest assured, you wouldn't have to replace or repair them within a couple of months.
♦ Affordable When Compared to Other Woods
If you are thinking that your bank balance will be deducted to a great extent if you purchase maple cabinets, then you are mistaken. Maple cabinets are affordable when compared to the other hardwood cabinets like walnut or the cherry ones. Hence, you can undoubtedly purchase these amazing cabinets. Are you impressed with the qualities of maple cabinets? If yes, then wait no more and purchase this wonderful furniture for a kitchen renovation.
Two Things to Do Before Buying Maple Cabinets
If you are planning to pick any random maple cupboard, then I would like to warn you, that's not a wise decision at all. There are certain things you must do before buying it. Read on to know more.
Check the Size– One of the major things that you'll have to do before buying a maple or any other hardwood cabinet is checking its size so that it can perfectly fit into your kitchen's space.
Check the Space– Well, cabinets are not just installed to enhance the aesthetic appeal of the kitchen, but also to store all your kitchen essentials. Hence, don't just go by the appearance of the cabinets, check the storage space as well.
Hope this blog has provided you with an ample amount of knowledge about maple cabinets and things to check before buying it. So, why delay further? Purchasing it as soon as possible! If you want to know about modern bathroom vanities made of maple wood, wait for my upcoming blog.
Recommended Posts:
---
AUTHOR BIO
Written by Sean Graham. He is an interior designer-cum-blogger, who has written several blogs on kitchen renovations, by installing maple wood cabinets. You can also read his blogs to get tips on choosing modern bathroom vanities.