Selling your home can be quite an ordeal if you don't prepare it properly for the competitive market. Essentially, if you want to get the best possible price for your home, you should definitely think about investing in some repairs and upgrades first. You would be surprised at how even the smallest changes can affect your home's resale value, let alone the big ones. If you're not sure what investments are your best choice, in this case, keep on reading.
Electricity
One of the major repairs and investments in your home has everything to do with your home's electrical system. If you know that there's some faulty wiring or suspect this, tending to this issue is a must-have if you want to make a good sale. On the other hand, if the electricity is completely fine, you can still get a nice upgrade simply by replacing old power sockets with new ones. This can significantly change the appearance of home's interior to the better.
Read Also: 12 Stunning and Stylish Living Room Decorating Ideas
Plumbing
Just like electricity, the plumbing system is another important aspect of your home. If there are pipes that need to be replaced, you should tend to it before putting your home on the market. What's more, adding a proper heating and insulation system to your pipes can truly boost your home's resale value. This is a major investment though so make sure to think about it carefully. When it comes to some minor upgrades, sensor faucets, as well as low flow faucet heads, can make a huge difference. If necessary, replace your sinks and shower system as well.
Kitchen and bathroom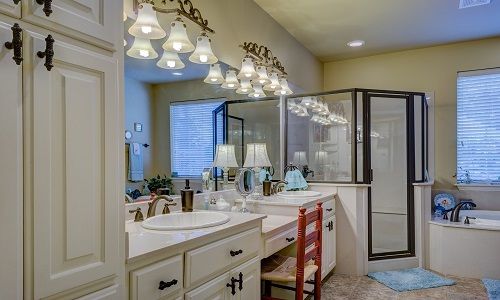 Aside from the mentioned plumbing issues, there are other upgrades you may want in your bathroom and kitchen. Interestingly, these two rooms can surely make or break the deal when it comes to selling your home. Of course, the number of repairs and the type of upgrades all depends on the current condition of these two rooms. When the bathroom is concerned, you may just need to replace the broken tiles and get a new toilet seat. On the other hand, you may have to recaulk a tub, or even replace it completely. In the kitchen, it may be enough to strengthen the screws on your cabinets and repaint them. Or, you may want to completely replace the countertops and all the kitchen elements as well. Remember, eco-friendly materials work the best these days in boosting your home's resale value.
Lighting
It would be best to replace your regular light bulbs with the LED ones. Of course, recessed lighting solutions in smaller rooms such as a bathroom looks great. Don't forget to replace the switches if necessary. Adding dimmer switches in a nice touch that many people love. Also, proper task lighting in the kitchen is essential. In addition, proper outdoor lighting can definitely affect your home's resale value, especially if you opt for motion sensor lights.
Painting
There's still nothing more effective than repainting your home when it comes to boosting its value and general appeal. If you only feel like certain rooms need a fresh coat of paint, you may want to DIY this task. Just remember that neutral color palette works the best in this case. On the other hand, if you want a major investment that involves the repainting of your home's exterior as well, don't hesitate to check out scaffolding rental services and hire professionals for the quickest, safest and most efficient home upgrade.
Energy-efficiency
This is not something that you absolutely have to do in order to meet the buyer's expectations but it's definitely an investment that can skyrocket your home's resale value and really impress the potential future owners. With that in mind, think about replacing your old appliances with ones that are star-rated, or energy-efficient. Obviously, work a bit on your curb appeal as well. It's enough that the yard looks neat and tidy, without messy structures or weeds. A footpath in the grass turf is always nice, and you can add outdoor lights to it. You don't need plenty of decorative plants and shrubbery or a luxurious patio in order to boost your curb appeal and boost your home's resale value in the process even more. In general, don't cut any corners when it comes to your home's comfort, safety and visual appeal.
Recommended Posts: How to Have a Stress-Free Moving Experience
---
AUTHOR BIO
Written By Derek Lotts. He is an open source project manager for some GitHub projects related to environmental protection and sustainable energy. Also, he is an Advisory Editor at Smooth Decorator, DIY enthusiast, Specialist in various topics in home improvement.