We all want our bathrooms to look luxurious but shake off the idea because of lack of time or money. What if we told you that you don't have to spend a lot and can still make your bathroom look good in a short time? There are tips and hacks that can freshen up any bathroom and make it look brand new. Whether it is something as huge as the wall paint or something as small as the fixtures, you need to pay close attention to the details. In any room, even the smallest of the elements can be very effective. Here are some helpful hacks for you to make your bathroom look good.
1. Update the Fixtures and Repair the Damages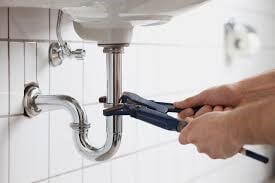 A bathroom with outdated fixtures and broken faucets does not look pretty. The insides of a bathroom are more prone to damage because of the constant moisture in the place. You may not notice your faucets, but any other person can instantly see if they are old. You should know how to do the basic repairs or replacements in a bathroom. For example, a showerhead is bound to get faulty at some point. You should know how to replace a shower head. If your door knobs or curtain rods or lights are broken, get them fixed, so your bathroom doesn't look old.
Upgrade the shower in your bathroom with a massage shower head. People who don't have a large tub should consider getting a luxurious shower head with multiple settings and simple design. The design you choose depends on your preference. You can buy a waterfall shower that has high pressure or a handheld showerhead. When you get a unique shower head for the bathroom that suits your style, it will update your décor game in less than seconds.
2. Don't Settle For Low Lighting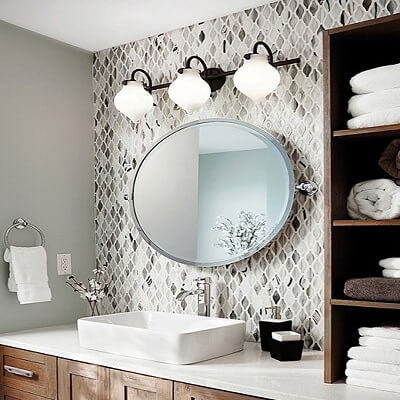 A lot of people overlook the importance of overhead lighting, and that is a major mistake. We accept the bathroom in our house as it is and don't think of adding any more light than necessary. Don't make the mistake of making your bathroom look gloomy. Lack of lighting in a bathroom is something experts do not recommend, except when you want to relax in a hot tub. That is why the lighting should be flexible enough so you can adjust it.
Brilliant illumination, whether it is natural or artificial, adds a sleek style to a simple bathroom. What kind of lights you install depends on your taste. If you enjoy the classic look, then go for a traditional chandelier. It will give enough light and act as a statement piece. Ceiling LED lights are found in most of the hotel bathrooms and make space look cool. If your bathroom has some tables, add a table lamp on it.
3. Update Your Towels and Rugs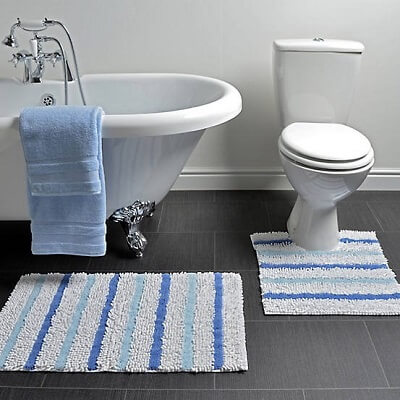 Get some fluffy bath rugs for your bathroom. The bath towels should be large and luxurious, so they create a spa-like feel. Throw out your old towels and bath mats/rugs and upgrade to new, fresh pieces. For winters, purchase towels that are warmer for your bathroom so you can enjoy the comfort level of a spa in your own home.
4. Dress Up Your Walls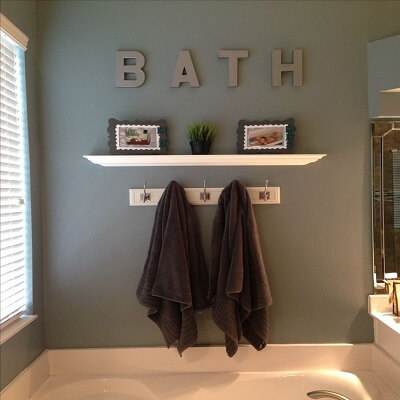 Walls are the first thing you should work on in your bathroom because they provide a backdrop to the rest of the place. Good wall color will highlight the fixtures/furniture, and an inappropriate wall can bring down the entire look.
Wallpapers can be costly and will take up your time, but in the end, it will be so worth it. It is not as cheap as a soap dish, but it is also much more important. While you can simply paint your walls in a light shade, there is also the option of dressing it up with wallpaper. Cover the bathroom walls in a statement graphic, and it will act as a distraction from outdated fixtures or poor lighting. If you live in a rental, you can always go for removable designs.
Read Also: 5 Best Ways to Decorate Your Home and Office Using Salt Lamps
5. Don't Let It Get Messy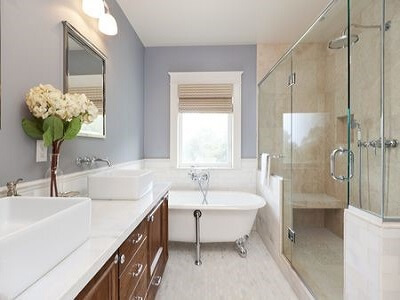 An expensive looking bathroom is a clean one. The easiest way to stop your bathroom from looking cluttered is by making sure that there is room for everything in it. A bathroom with its towels on the floor is not going to make any positive impressions but negative.
Install a towel hook by the sink and by the bathtub/shower where it is needed. If the towel ring is on the door, then it is no use to you, and your towel may end up at unusual places for convenience. Install a separate hook for your bathrobe as well because everything on a single towel hook will look odd. To keep your bathroom from getting cluttered, you should install storage places. Bring in vintage dressers where you can keep any clothes. You can always get wicker baskets where you can keep the bathrobes and towels.
6. Upgrade the Toiletries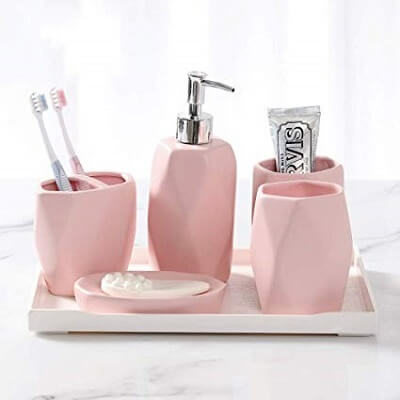 Your soap dish and toothbrush holder are not insignificant when it comes to adding to the personality of the bathroom. Instead of keeping your soap on the sink, buy a soap dish that goes with the theme. Get a beautiful tumbler to stash your toothbrush in. If you have cotton swabs in your bathroom, keep them in a box instead of some ordinary plastic cover. There are some things that you need to place on the sink or counter such as shampoo bottle, hand wash, body spray, etc.
Instead of just placing them in the sink, buy a chic tray that has a lid for small items like hair ties and floss. A floral tray will create a photogenic little vignette. These small things don't cost much money and are certainly easy to find, but they can make the place look organized. Your bathroom does not have to be dull and unimaginative. Apply these nifty hacks today and make your bathroom look like the designer bathrooms that are printed on the cover of a magazine!
Read Also: 6 Tips On Embracing Home Tiling For A Sophisticated Look
---
About the Author:
This post is written by Andrea Smith. She loves traveling, home decorating and hanging out with her friends. Also, she is currently a student of Interior Designing at the California Arts School. She regularly writes blogs at https://homeaddons.com/.